Top Ten Tuesday was created by The Broke and the Bookish in June of 2010 and was moved to That Artsy Reader Girl in January of 2018. It was born of a love of lists, a love of books, and a desire to bring bookish friends together.
August 6:
Cover Redesigns I Loved/Hated
There have been a lot of redesings over the years and I don't have time to list them all so I'll be looking at this post from The Cursed Books, this post from Stacked Books, and this from Book Riot and deciding on the top 5 best and worst YA cover redisings!
Top 5 Wost
We are starting with the ones I least favor because that's the fun stuff:
Why? The original cover was so pretty and whimsical, why would you go with that weird, backlit, stock photo painted purple, x-files feeling, version?? If any of you have read this book and thinks that the second covers does it more justice, feel free to comment because I don't see it
I don't particularly
hate
this redesign, but I feel like the first covers gave a much different feel than the new ones.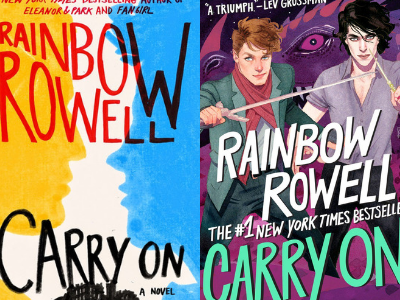 Not a redesign but a different cover nonetheless, I much prefer the US version with the silhouettes because it's simple and eye catching. It tells you everything you need without being obvious: there's two boys and a school. The second one looks like the cover of a mangas and that's not a bad thing but it's not my style.
This is, in my opinion, the worst thing you can do to readers: not change the book covers but release
the last book of a series with an entirely different design.
What were they thinking?? They are all pretty in their own way but if I'm collecting a series then I'll want all the book to match and they have made it literally impossible for that to happen. Just… why?
Not exactly a redesign (again) but I wasn't a fan of the UK cover for this one. Sure, it has a call back to an important moment in the story but it feels like the characters get lost in the design and there´s just a messy feel to it.
Top 5 Best
This book series got saved by this redesign, let's be real. That first cover hurt my eyes and the new one is so beautiful, not to mention how stunning all the following ones look.
This one is a funny case because I love all the iterations of the cover, all three of them look stunning and I want them on my shelf. However I do love the last one because of how good it looks with the second book in the series and for the grimoire-aesthetic!
Again: didn't dislike the original cover but I like the new one so much more. The cheeky attitude and the shadows with the little catchphrase in white is everything. I wanna read this book so bad I might buy it next month..
The first cover was stunning but it really didn't say much about the story, I like the second one because it has our main characters and the red and gold are much more appealing, it makes you want to pick the book up-
Two very different yet still very pretty covers. I prefer the redesign because I favour simplicity and I really like how it looks paired with Vengeful. The way he seems to cast a shadow of death or leave a path behind just does it for me, I guess..
---
And that's my list! Have any of you done this Top Ten Tuesday? Let me know so I can check them out!