According to my family's tradition, we put up all the Christmas decorations on December 8 (a special day on the Catholic calendar), and so today I'm doing the Festive Christmas Book Tag.
I saw this at Browsing for Books' Bookmas and the guest blog was For the Love of Books. The tag was created by the Booktuber GirlReading and you can check out the original video here.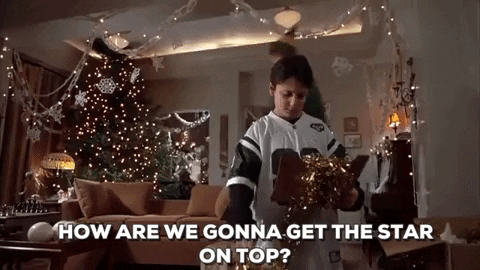 Sidenote: As a Spanish/Argentine family we put up the christmas tree but also make a really big production for the nativity. (If any of you have been to Spain for the winter holidays then you know what I'm talking about). It's the whole city of Bethlehem, the desert with the Three Wise Men and as many people and animal as we can cram into whatever surface we're using that year. My dogs are unwilling participants in all of this and always get santa hats and reindeer antlers put on them (I'll see if I post some pictures of this year's) It's an activity that takes up the better part of a day.
---
1. A fictional family you would like to spend christmas dinner with?
Since Ash Already said the Weasleys I'm gonna have to think someone else…
I'd go with the Bennett Pack, they are all a great family (mix of blood and found) and I feel like their holidays would be full of cuddles and love and just all around good feelings.
2. A bookish item you would like to receive as a gift?
…Is it cheating if I say a bookstore gift card?? Because I've asked for that for two years in a row and now my mom has banned it.
I'm not much for bookish items but if it was for a gift I think I'd like some candles, they are so pretty and have such nice scents related to books but I'd never buy them for myself. I did a post on some interesting bookish candles the other day, if you are looking for ideas
3. A fictional character you think would make a perfect christmas elf?
Taako is literally an elf (and one of his friends is canonically Santa Claus, also, he'd bake some amazing holiday treats so I believe he'd make a perfect Candlenights elf even if he'd make fun of everyone and pretend that he doesn't want to be there.
I can't wait to listen to the Candlenights episode next week
4. Match a book to it's perfect christmas song.
…I got to this question and suddenly forgot every single song ever… and I already didn't know that many in English…
WELL, I'm pairing the song White Chritmas with Blanca & Roja for the simple reason that Blanca means White.
5. Bah Humbug. A book or fictional character you've been disappointed in and should be put on the naughty list?
Again, same answer as Ash so I'll have to change it….
I had low expectations for this one since I didn't like TMI but I'd heard good things of how CC got better with every series she published… didn't like this one either still WAY better than Cursed Child though so I'll just leave the review here if you are curious (I'm so sorry if you are a fan though, I promise I tried to like it)
6. A book or a fictional character you think deserves more love and appreciation and deserve to be put on the nice list?
All of these characters deserve to be on the Nice list and also, this book deserves to be hyped way more! It's a cute contemporary lesbian romance with a fat lead that loves fashion! Here's me raving about this book for a whole post
7. Red, Gold and Green. A book cover that has a wonderfully christmasy feel to it.
…I literally have no "christmasy" covers on my goodreads right now (if you have any recs feel free!) but I do have a fantastic book with a read and gold and green cover waiting on my TBR!
8. A book or series you love so much, you want everyone to find under their christmas tree this year so they can read it and love it too?
I have the perfect choice for this question! The Timekeeper Trilogy by Tara Sim is a great YA fantasy set in a steam punk world with a diverse cast of characters and a mlm main pairing, it talks colonialism, power-structures and cute clock-spirits. The best part? The last book is coming out next January so you can start on Christmas and read all of them in the span of two weeks

Tagging time::
The person reading this and waiting for a tag
as always, feel free to ignore this if you don't wanna do it
I hope all of you have a good holiday!