Second iteration of this post because I've found some really good podcasts since last time that I'd love to share with all of you
Quick notes on each podcast: Queer Rep 🌈| Male Voice ♂| Female Voice ♀| High Fantasy ✨| Urban Fantasy  🎠 | Mythology  🗿 | Literature 📕
---
This podcast is everything I ever wanted! A couple of women with vast knowledge of world mythologies discussing them over drinks, sometimes with an even more informed guest. They talk about myth in a fun and easy-to-understand way that I really love, and they don't just stay in European Mythologies, they talk myths from all over. I highly recommend you check this one out if you enjoy old gods and fantastic stories,
---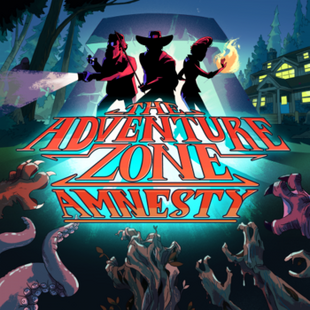 I spoke of the McElroy Family on my previous post, here's the third campaign on their DnD podcast, where they don't play Dnd… It's okay though, they play Monster of the week wich is similar. In this campaign we have Duck, a chosen-one who decided to avoid fate and became a park-ranger, Ned, an old man full of secrets and a not-so-secret criminal background who owns a cryptid museum, and Aubrey, a stage magician that finds out she can do actual magic.
---
Ignore this nerdy-ass promotional photo, I swear the podcast is actually really cool.
This is another DnD podcast that can also be watched on YouTube. They are all professional Voice Actors and full-time nerds, I love them. Since they are actors their characters have so much depth to them! I'm not caught up yet but their personalities and quirks are very well-defined. The story is rich in every way, each chapter can be from 3 to 4 hours long so there's no way to binge it, sadly, but you'll find that you make time just to keep listening and find out what happens next.
Here's a picture of the main characters: The Mighty Nein
---
This one is a podcast where the host interviews a different author every chapter. And all my favorite authors are in there! (Leigh Bardugo is in there twice) And the questions are really good. I especially love the one with Victoria Shwab. If you love YA or middle grade then check out the episodes name to see if your faves are in there!
---
I got this recommended by Kathy @Pages Below the Vaulted Sky last time and I have to say that she knows me well. On this podcast you focus in one Urban legend and tells you the story as well as the history supporting it. Every time I finish an episode I'm left believing in another monster, logic is no contestant against this man and his research abilities, best part is that he also writes books on the subject so if you are curious but podcasts aren't your thing you can check out his books.
---
Last one is a podcast about words. That's it. The Allusionist talks about language and how it mutates, how it affects us and our lives. It's quite interesting to me, since English is not my OG Language to see how it develops every day into a new thing.
Also, there's a whole episode on curse words and I adored it.
---
If you have any questions about any of these pieces of art feel free to ask me! And if you have recommendations then please let me know! I'm always looking for more