It's here! The month where the most crazy of us decide to try to write an entire novel (or whatever we feel like writing) in a month!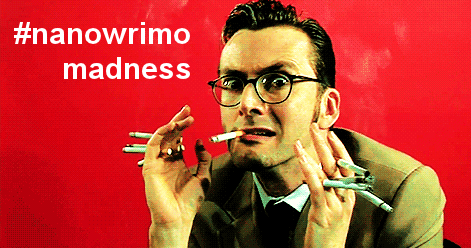 First of all, I'd like to say that I love this year's aesthetic, it gives off the frantic yet fun spirit of nano (and the snacks, there's no nanowrimo without snacks)
For the ones of you who don't know: NaNoWriMo is short for National Novel Writing Month and it's a challenge to write 50,000 words in a month, ideally the first draft of your novel. Although I know a lot of people who make their own word-count goals or that use the time and platform to edit or revise their work.
Whatever you feel like doing this month is for writers to be bold and write as much as they want, no editing required.
This year I'm taking part again, but this time I'm cheating a little bit: I'll be writing my novel with one of my friends. We both read The Iliad for class last year but also read The Song of Achilles (a re-imagining of the story of Achilles told by his partner, Patroclus) and that gives us the idea for this years novel: The Iliad Reimagined.
Basically we are going to do the same story BUT told from different points of view, from Helen to Hector to Odysseus, we are touching every important character on Homer's masterpiece and giving them the chance to tell things how they saw it; with the additional commentary of the gods who are at fault but enjoy seeing the poor mortals rough it out for no reason.
We'll be writing it in Spanish, which I almost never do so that will be a fun thing to try… I swear that I can't string three words in Spanish without cussing… the editing will either be fun or a lesson in why I should speak better.
If you are also joining in on the madness feel free to add me as a buddy! And may we survive with our word-counts full