Maybe it's all about people coming into your life for a little while and you take what they give you and use it on your next friendship or relationship. And if you're lucky, maybe some people pop back in after you thought they were gone for good.
Title: What If It's Us
Publisher: HarperTeen
Format: E-Book
Length: 448 pages
Rating: 4.5/5 ★★★★☆
Rep: Two gay MCs/ Puerto Rican MC/ MC with ADHD
Summary: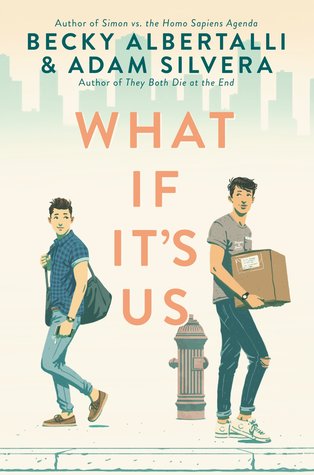 Arthur is only in New York for the summer, but if Broadway has taught him anything, it's that the universe can deliver a showstopping romance when you least expect it.
Ben thinks the universe needs to mind its business. If the universe had his back, he wouldn't be on his way to the post office carrying a box of his ex-boyfriend's things.
But when Arthur and Ben meet-cute at the post office, what exactly does the universe have in store for them?
Maybe nothing. After all, they get separated.
Maybe everything. After all, they get reunited.
But what if they can't quite nail a first date . . . or a second first date . . . or a third?
What if Arthur tries too hard to make it work . . . and Ben doesn't try hard enough?
What if life really isn't like a Broadway play?
But what if it is?
---
I went through every possible feeling while reading
This book is amazing. We have a full summer romance with the cutest main characters I've read. You can tell you're different the authors are but this only serves to give the story more depth. Flash summer romance means feelings run high and fast and maybe that's why I felt like, sometimes, their interactions and reactions were a bit forced, a bit rushed.
Arthur
I'll be honest, if I knew him in real life I'd probably avoid him. I just have this aversion to optimists that see the good in everything and think the universe actually has control over things and that it'd decide to make our lives easier for some reason… I'm sorry Arthur. In the book, though I liked him. He had a bit of a temper on him and emotions were running super high all the time but that's how being a teenager and finding the love of your life summer must feel like.
Ben
I am Ben and Ben is me. I have always identified hard with Adam's characters and this time is no different. This poor gay disaster can't parse through his feelings in peace because life keeps happening to him. If he put a bit more effort in communicating with literally everyone maybe life would be easier but that's always the case so he does what he can.
Dylan
Dylan was a good friend, if happily obvlivious at times. He always tried to use humor and distract from the problems and I understand that need to pretend everything is fine. However he is an important person in Ben's growth and the only friend that stayed firm all along the story, even when Ben was being an asshole.
This is a book about a perfect summer romance in the imperfect real world. It was super sweet and the combination of very different writing styles that somehow worked well together.
I knew, in my heart, that the both of them were gonna get together but they don't until almost half of the way in?? and it made it impossible for me to put the book down. I was just so on edge for all the times they could have crossed paths but didn't, the anticipation kept building up until it got to the point where I cheered when Ben found the ad.
The fact that their romance was in no shape or form "perfect" was so great. I knew this wouldn't be boring because I trust the authors but they went there every time, making it hard for their characters to keep going and raising issues and concerns that would appear in real life in any relationship.
The way they romanticized and at the same time de-romanticized New York City, as someone who has never been to the US but is immersed in western media, NYC has always been presented as either the city where your dreams come true (""The greatest city of the world"") or a metropolis where the individual doesn't matter. The authors manage a good equilibrium between the two points and show it as any other city: with good and bad things and filled with different people.
I also loved how relationships affected and influenced the characters, it wasn't just the main romance that had weight in the plot but Arthur's parents arguing, Ben feeling isolated from his best friends, Arthur being literally separated from his. They all influenced how they behaved and responded to things. Too often we see the friends and family disappear when the main character gets in a relationship but it wasn't the case here and we can see how this other relationships may be even stronger than a romantic one.
The pacing, for me, seemed a bit off. I've read a lot of Role Playing before and can tell this is a side effect of writing a chapter each. One person introduces an issue and the other has to react. However, a downside of that is that maybe the other person isn't so into the new issue and just resolves it too quickly, causing the whole thing to feel stilted. In the end we had a lot of great opportunities to get into deeper discussions and take the story to other places that just didn't take off, every problem was presented and dealt with immediately with no follow-ups.
Am I the only one who thinks Arthur waaaay overreacted with the Hamilton thing? Like, I get that you are a fan but yuou weren't even expecting to go and then you aren't going, it's not that big of a deal that you need to start crying about it…
I'm still not sure if I liked the ending. It's been a week since I finished it and I don't think I'll ever have a definite answer. It was a very realistic and open ending, which goes perfect with the story but at the same time I'd have liked some sort of hint. I understand why they took it in that direction but personally, I love happy endings and the little perfectionist in my heart want to know every detail.
But Arthur? I barely know him. I guess that's any relationship. You start with nothing and maybe end with everything.
---
(…) our voices don't ever really become one, but I like how we sound together. Like two people trying to make it work.
---
"Infinite do-overs."

"I like that," he says. "It sounds like us."
---
(…) home isn't about how big the space is but how we fill it.
---
I've reached the summit of Suck Mountain. Peak Suck. Suck Everest. Watch me take suck to new and exciting elevations.
---
I always thought love was about the showstopper moments. No dialogue, no filler. But if the quiet parts are filler, maybe filler's underrated.
---
I'll give it 4 and a half boxes filled with memories