I was tagged by Brittany from Perfectly Tolerable and it's probably so she can drag me at length… FUN
The title pretty much says it all, I'm about to tell you all my dark and shameful secrets about how I read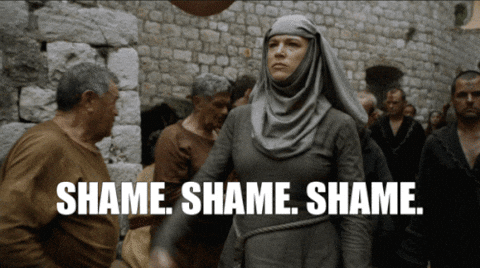 #1 I'll buy a book multiple times in different formats
I know this doesn't sound bad but if you look at my bank acount… It's buy, guys.
I usually buy my books on Kindle and read them there but there's some times where I'll see a pretty cover and I'll have the money and… well, you know how it goes. Other times I'll be reading a book and want to keep reading whhile doing other stuf and (instead of taking my book into the shower like a heathen) I'll just buy the audiobook to take along with me.
One time, I was reading A Darker Shade of Magic and was super into it so when I got a few minutes off at work I went to pull out my physical copy and it wasn't there (the horror) so I went online and bought the ebook version and just read on the computer.
#2 I fill my books with tabs
Writing on books or dogearing pages is not my style.
I started reading with library books so that wasn't an option and the habit just carried over to the rest of my books.
What I do all the time though is put colored tabs on my physical copies. Each color means something different and it just makes it so much easier for when I'm reviewing it later!
#3 Reading multiple books at a time
Again, not that bad, until you look at my good reads and see that I haven't finished a book in weeks and I keep on adding more and more to my Currently Reading list… one day I'll just finish all of them and I'll have to write like five reviews at the same time before I forget everything..
I'm Tagging:.
YOU
Have fun doing this!