Have you noticed how much things come in threes in books? Like, the main three in Harry Potter, the big three gods in greek mythology (and I can't think of any more but you know)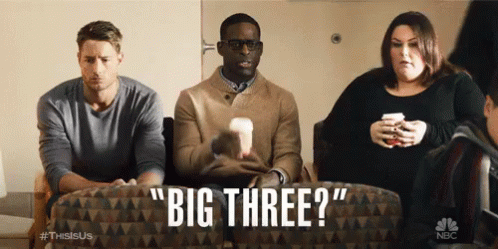 I don't know who made this tag but I saw it the other day at Saturday Nite Reader and here it is!
Basically it's one prompt and you have to give three answers
Three read once and loved authors
Heidi Heilig
Madeline Miller
Becky Albertalli
Three titles I've watched but haven't read
Pride and Prejudice (I've seen it 10+ times and I still haven't read the book… I feel like a lie)
Lord of the Rings II and III (I KNOW! I've only read the first one of the main trilogy! Though I also have read The Hobbit and half The Sillmarilion)
Every The Mortal Instruments book after the first one
Three series I binged
The Kingkiller Chronicle by Patrick Rothfuss (TWICE first on paperbacks and then on audiobooks)
Three unpopular bookish opinions
I don't care if people "deface" their books. It's just ink on paper and you can always get another copy, I don't see it as such a horrible thing to do
I prefer e-books over physical books, sure the smell is nice and displaying them on your shelf looks amazing but I'd rather not carry an extra 100 pound on my back just to keep reading. Ebooks are so much more practical.
Fanfiction is a legitimate form of writing and should get more recognition! It's the same craft and the authors put a lot of work into stories that they love, knowing they are just sharing them for free and to make other people happy, they get so much shade when compared to "professional" authors and I feel like that is unwarranted.
Three current favorite book covers
Three Goals for the Year (2019)
That's still a long way away! Don't make me think of the future!!
Read 100 books (?)
Get caught up with all the books on my TBR (as if that was even possible)
Try and do some Discussion posts (maybe?)
I tag