It's PODCASTS TIME!
As I've said before I spend a lot of time on public transport and so, a lot of time listening to anything I can get my hands on: audiobooks, playlists, podcasts… Today we are talking about podcasts. They are basically radio shows that you stream and listen to whenever. Here's a list of those I'm currently listening to..
They are a way of storytelling that is mostly character driven stories that have the most impact. They can be improv or following a script, either way they are addictive and I love to just immerse myself into each episode and let time pass me by as I go.
Quick notes on each podcast: Queer Characters  🌈| Finished 📕| On-going 📖| Male MC ♂| Female MC ♀| Fantasy ✨| SciFy 💥| Supernatural 👻| Advice ✍
Produced by Night Vale presents. This is an amazing podcast that started back in June 2012. It's about a quaint little town in the desert called Night Vale where all sort of weird things happen. We get the perspective of community radio host Cecil who gives us the daily updates. However weird things get in there (and they get extremely so) the citizens of Night Vale have seen it all so the lights in the sky, creepy hooded figures and blood-matter from space are but minor inconveniences. The show is delightfully strange and you fall in love with the characters instantly.
They update every two weeks and you can listen at Apple Podcasts | RadioPublic | Google Play | Spotify | RSS
Another one from Night Vale Presents. This one has only three seasons but it's still on brand weird. Alice isn't dead is about a truck driver who lost her wife and is driving through the roads of the US. She starts to notice strange things happening around her both at her stops and on the road. In time she realizes that she is in the middle of something big and that Alice wasn't who she thought she was, more importantly, that Alice wasn't dead. If you live in the US or have traveled through roads that extend further than you though possible, if you enjoy weird that is maybe too close to your perceived reality, then you are going to love this one.
LIsten to it on Apple Podcasts | RadioPublic | Google Play | Spotify | RSS
An advice podcast for the modern era made by three brothers whose advice should never be followed. The McElroy family has a wide arrange of podcasts they participate in so they have a site where you can keep up with all of those. They are part of the Maximum Fun network. On this show you can listen to them trying and failing to offer advice to questions sent in from listeners and random questions from Yahoo answers. It's super fun and more than one that made me literally cry with laughter while on the bus (that was an experience). Since it's not following any kind of storyline you can start listening whenever you want and then go back or not.
Updates weekly and it's available at Apple Podcasts | Spotify | RSS
🌈📕♂✨Balance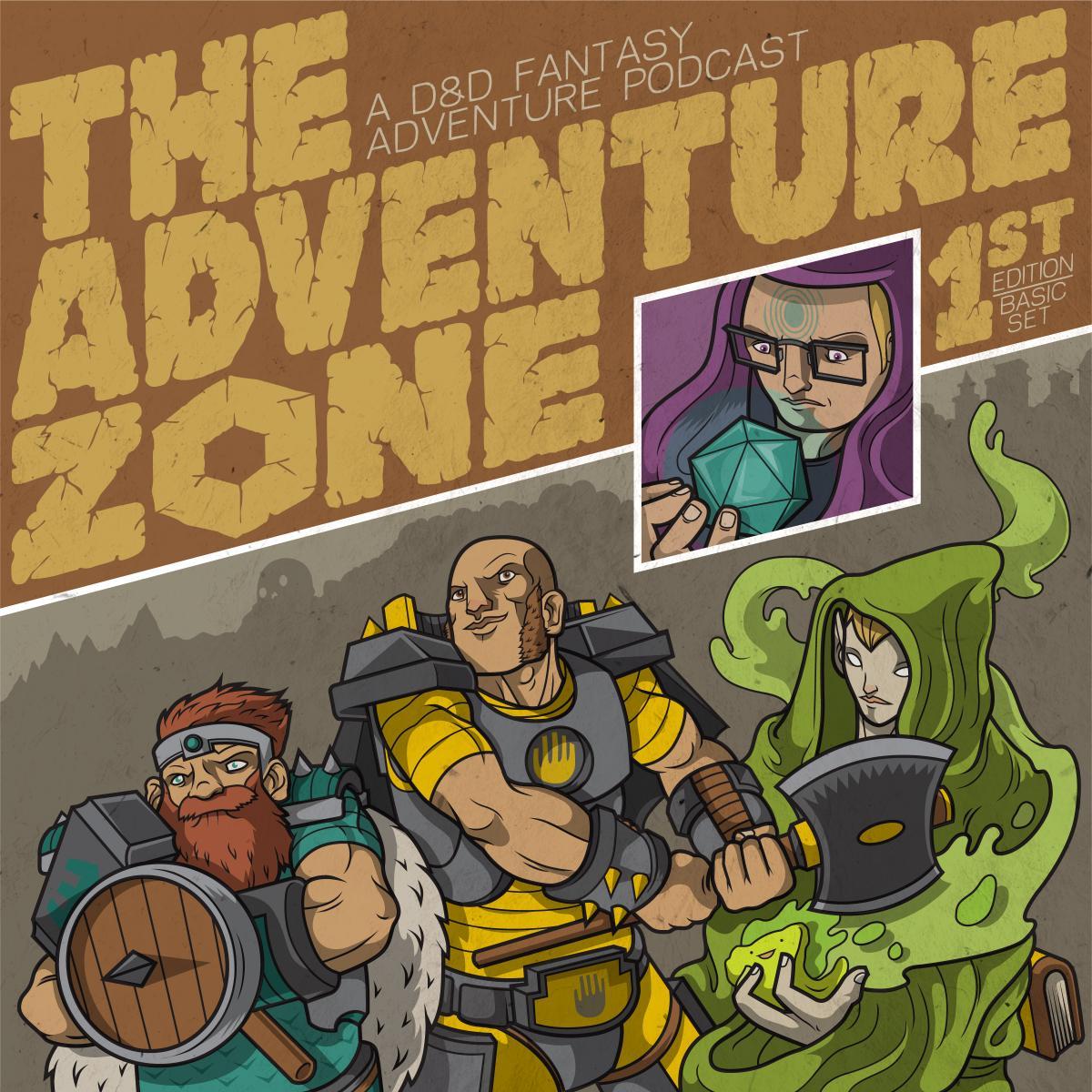 Balance is the first arc of The Adventure Zone. It's a podcasts of a Dungeons and Dragons quest done by the McElroy family, not only the brothers but now they are joined by their dad! who has never played D&D before. The youngest brother, Griffin, is the DM and he kills it. Considering he is DMing a party who has almost no idea of how to play and enjoys solving problems in the most unexpected ways possible, he takes it all and runs with it making a 69 episodes story that will make you laugh, get angry, and cry. The party is made of Magnus Burnsides, a human fighter, played by Travis;  Merle Highchurch, a dwarf cleric, who forgets that a cleric is supposed to heal and protect most of the time, played by the dad, Clint; and Taako you know, from TV, an elven wizard. If you like fantasy and want to have a good time then I recommend this 100%.
🌈📖♂Experimental mini-arcs
After the success of Balance, and since that story was over, the McElroy decided to keep the podcasts going and so they experiment with different role-playing games with other settings. They take turns GMing and their stories turn out so different from each other that it's really interesting to listen to. I'm still not caught up entirely with this but You can pick a mini-arc at random and just listen to it without needing any back story. They explain, on the first episode, how the story goes and the game dynamic they are using each time.
So if you are looking for something quick to listen to, or are just trying out this podcast thing then you head the The Adventure Zone and pick whichever arc suits you, you have a superhero-themed one, one set in the old west, and another with urban fantasy.
Updates weekly. Check out The Adventure Zone on at Apple Podcasts | Spotify | RSS
The bright sessions is a podcasts about a therapist who treats the strange and unusual. Doctor Joan Bright's patients are people with abilities (ie superpowers) who are just trying to live their lives. A task made harder by hearing other people's thoughts, traveling through time accidentally or being able to walk into other's dreams. The story begins with individual therapy sessions but as the story progresses and characters meet each other and face difficult situation the podcasts changes and goes to encompass telephone calls, daily conversations and, one time, dreamscapes. It's an amazing and continually evolving podcast with a wide arrange of diverse characters that you will love and hate and hurt for.
Also, episode 50 is a musical; so there's that.
Some episodes contain trigger warnings so pay attention to those
Enjoy The Bright Sessions, with updates every two weeks, on Apple Podcasts | Spotify | SoundCloud | YouTube
For any lovers of Science Fiction out there, this is the podcast for you. Set in a space station orbiting the dwarf star Wolf359 we get a look into Communications Officer Doug Eiffel daily logs. He gets bored sometimes and his only solace is telling his imaginary listeners about how everything is going and his thoughts on what's happening. The story takes a turn when the three person crew start noticing unexplainable things around the ship. There's creepy sentient plants, lack of supplies, a scary phantom laboratory and sudden but inevitable betrayal.
You can get on the ship from the official site | Apple Podcast | Spotify
These are the podcasts I'm currently listening to!
What are you listening? Do you follow any of these? I'm always on the lookout for more stuff
If you have any recommendation, please, leave them on the comments so I can check it out!