I saw this tag on Emily @The little book affair, you can go see her answers first and then see what a mess I am in comparison!
Let's do this!
---
What is the longest amount of time you can comfortably go without picking up a book?
Any book? Not even school stuff? I think I can go a month easily, not much more than that though
How many books do you carry on your person (or Kindle) at any time?
One physical book (if I'm reading one) if not I have around thirty book already downloaded on my kindle just in case.
Do you keep every book you buy/receive or are you happy to pass them on to make space for more?
I don't really have many books, people would rather buy me something else since You already have some books! and that's kind of annoying. My personal book-case is just three shelfs tall. To answer the question: I keep them, the are nice to page through and I may lend them to some people but they always come back.
How long would you spend in a bookstore on a standard visit?
Maaaaan, someone is always dragging me out of a bookstore because they think I take too long. I think that, if left unattended I can easily spend from half an hour to two hours depending on the size and accommodations.
How much time per day do you usually spend reading?
I'm a really messy reader, in the sense that I may not read at all one day only to read for five hours straight. There's also the audiobooks I listen to on my way to class so, on average, I read 1-2 hours per day.
Where does the task 'picking up a book' appear on your daily to-do list?
-Am I doing something that's not reading and doesn't really require my attention? Then it's reading time. Mostly on the bus and when it gets slow at work.
How many books do you reckon you own in total (including e-books)?
100? 150? I'm not sure and I think I'm saying more than I have but I'm not sure, I own a lot of ebooks and never really payed attention to how many there were.
Approximately how often do you bring up books in conversation?
Every time, I can almost always find a way to fit books in a conversation and if I don't it's only because I'm talking about hockey.
What is the biggest book (page count) you have finished reading?
The Count of Montecristo by Alexandre Dumas: 710 pages. I read it while I was in highschool and was so proud of myself still am ofc They story was so entertaining that I didn't even realise I was rushing through it.
Is there a book you had to get your hands on against all odds i.e searching bookshops, online digging, etc?
There are some books I couldn't find anywhere because this is Argentina and if you can't find it in stores then you have to go online and pay shipping costs only to risk them getting stolen on the mail. It happens too often for me to pick a specific book. It's the reason I got a Kindle.
A book you struggled to finish but refused to DNF?
Yes, many. This was, coincidentally, the topic for the past Top Ten Tuesday post.
What are 3 of your main book goals for 2018?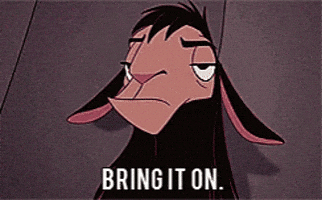 I did a bookish resolutions post at the beginning of the year but if I can choose only three then it'd be:
100 books
Read more hispanic and latinx authors
Get up to date with all the ARCs
Have you ever had the privilege of converting someone into a reader (maybe via inspiration or incessant nagging)?
I wish! This is seriously my dream.
Describe what books mean to you in five words.
Escaping reality to find myself
---

That's the tag!
I hope you liked it and, as usual, I tag everyone who wants to be tagged!