You know what I love? Stories that go on for a loooong time, that means that the best thing that can happen to a book is to get a sequel!
Here's a list of my most anticipated lgbt+ sequels that will be coming out next year::
Chainbreaker (Timekeeper #2)
by

 Tara Sim

Expected publication: January 2nd 2018 by Sky Pony Press
Clock mechanic Danny Hart knows he's being watched. But by whom, or what, remains a mystery. To make matters worse, clock towers have begun falling in India, though time hasn't Stopped yet. He'd hoped after reuniting with his father and exploring his relationship with Colton, he'd have some time to settle into his new life. Instead, he's asked to investigate the attacks.
After inspecting some of the fallen Indian towers, he realizes the British occupation may be sparking more than just attacks. And as Danny and Colton unravel more secrets about their past, they find themselves on a dark and dangerous path–one from which they may never return.
Timekeeper was one of my favorite reads of 2017 and I can't wait to get to this book. In the first instalment we got a glimpse of a wonderfully complex world and it's lore but the story was more focused on our MC and his problems. Here we will get to explore and experience the setting at a wider level. The new characters that have been teased at in the author's twitter are adorable and diverse. This is an own-voices book for asian-diaspora characters and the MC is a gay boy in a relationship.
On Chainbreaker the author also touches themes such as identity and belonging.
Not to mention that these covers are just amazing heart eyes they are intrincate as clockwork and males you feel the steampunk that's inside.
---
Inkmistress (Of Fire and Stars)
by

 Audrey Coulthurst

Expected publication: March 6th 2018 by Balzer + Bray
Asra is a demigod with a dangerous gift: the ability to dictate the future by writing with her blood. To keep her power secret, she leads a quiet life as a healer on a remote mountain, content to help the people in her care and spend time with Ina, the mortal girl she loves.
But Asra's peaceful life is upended when bandits threaten Ina's village and the king does nothing to help. Desperate to protect her people, Ina begs Asra for assistance in finding her manifest—the animal she'll be able to change into as her rite of passage to adulthood. Asra uses her blood magic to help Ina, but her spell goes horribly wrong and the bandits destroy the village, killing Ina's family.
Unaware that Asra is at fault, Ina swears revenge on the king and takes a savage dragon as her manifest. To stop her, Asra must embark on a journey across the kingdom, becoming a player in lethal games of power among assassins, gods, and even the king himself.
Most frightening of all, she discovers the dark secrets of her own mysterious history—and the terrible, powerful legacy she carries in her blood.
That is a nice summary for a book I have yet to read the first part of (sorry). But last year Of fire and stars was everywhere and on everyone's tbrs for a story about a princess who falls in love with her fiancee's sister. Also, the princess has magic. So yeah, sounds great and now there's a sequel. I will try and read the first book before this one comes out so that I'm more in the mood.
Also, this cover is stunning for reasons completely different that the previous one. The cleannes of the colors and the style, like it's made of paper cut-outs are different than what we're used to and catch the eye.
---
Leah on the Offbeat
by Becky Albertalli
Expected publication: April 24th 2018 by HarperCollins/Balzer + Bray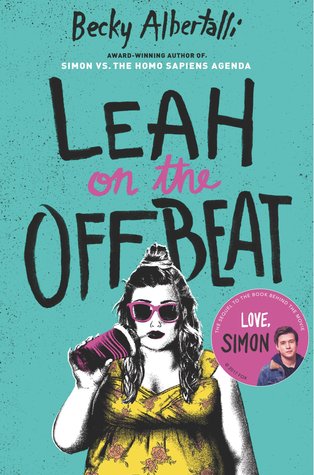 Leah Burke—girl-band drummer, master of deadpan, and Simon Spier's best friend from the award-winning Simon vs. the Homo Sapiens Agenda—takes center stage in this novel of first love and senior-year angst.
When it comes to drumming, Leah Burke is usually on beat—but real life isn't always so rhythmic. An anomaly in her friend group, she's the only child of a young, single mom, and her life is decidedly less privileged. She loves to draw but is too self-conscious to show it. And even though her mom knows she's bisexual, she hasn't mustered the courage to tell her friends—not even her openly gay BFF, Simon.
So Leah really doesn't know what to do when her rock-solid friend group starts to fracture in unexpected ways. With prom and college on the horizon, tensions are running high. It's hard for Leah to strike the right note while the people she loves are fighting—especially when she realizes she might love one of them more than she ever intended.
The good news just keep on coming! Not only are we getting the Love, Simon movie but Becky is giving us a book solely about Leah! A book where we stay in universe but the focus is on a fat bi girl that's also a drummer. I feel like I've ascended and reached a new level of happiness.
The color scheme on the cover is pretty and loud and everything Leah is. We see her (obviously) and we see her personality.
---
Bruja Born (Brooklyn Brujas #2)
by

 Zoraida Córdova

Expected publication: June 1st 2018 by Sourcebooks Fire
Three sisters. One spell. Countless dead.
Lula Mortiz feels like an outsider. Her sister's newfound Encantrix powers have wounded her in ways that Lula's bruja healing powers can't fix, and she longs for the comfort her family once brought her. Thank the Deos for Maks, her sweet, steady boyfriend who sees the beauty within her and brings light to her life.
Then a bus crash turns Lula's world upside down. Her classmates are all dead, including Maks. But Lula was born to heal, to fix. She can bring Maks back, even if it means seeking help from her sisters and defying Death herself. But magic that defies the laws of the deos is dangerous. Unpredictable. And when the dust settles, Maks isn't the only one who's been brought back…
The first book ended with a latina girl accepting her magic and dating a kick ass indian girl but it also left a lot of questions unanswered. Here we have a different MC that's the sister of the MC in Labyrinth Lost. We didn't see much of her in the previous one because her sister was kind of self-centered but we know her power is that of healing and she loves her family and the magic that runs through them.
This is own-voices for latinx representation and you can see that in every word. The importance of family and the ties that binds the community together are ever-present. We also see it in the magic system and the way they worship the Deos (basically their gods)
I enjoyed the first book a lot and am looking forward to getting this one.
---
The Lady's Guide to Petticoats and Piracy
by

 Mackenzi Lee

Expected publication: October 2nd 2018 by Katherine Tegen Books

A sequel to The Gentleman's Guide to Vice and Virtue, narrated by Felicity and featuring travel, pirates, and a science girl gang.

The Gentleman's give to vice and virtue was great, exciting, amazing, surprising and every good adjective I can think of. NOW we will be getting a book about Felicity. There isn't much known about how this book is gonna be but I have high hopes,  especially since the author confimed they are making Felicity asexual (!!!)
---
There are probably (hopefully) other books that could be on this list and if you have any feel free to point me their way, these are just the one I know of rn
BUT this is the list for now. Soon I will make one for first-book releases so be on the look out for that!